ULTIMATE AIRBRUSH THINNER
The Ultimate Airbrush Thinner is specifically formulated to work with ALL brands of acrylic modellers paint,the only brand of modellers acrylic thinner in the world able to claim this!
A specially blended formula ensures a fast drying, smooth finish every time, no matter what brand of modelling acrylic paint you use.
DUE TO REGULATIONS THIS PRODUCT SHIPS VIA UPS
LIMIT NOW IS 4 BOTTLES IN TOTAL PER ORDER FOR THE ULTIMATE AIRBRUSH CLEANER & THINNER.YOUR COMPLETED ORDER CANNOT EXCEED 4 BOTTLES.
DUE TO THE INCREASE DEMAND WE MUST APPLY A LIMIT TO QUANTITY IN ORDER TO ENSURE ALL MODELLERS OBTAIN THE OPPORTUNITY TO PURCHASE THE CLEANER.
WE ARE CERTIFIED TO SHIP THE ULTIMATE CLEANER,THINNER THROUGHOUT CANADA, UNITED STATES AND WORLDWIDE.
SHOP WITH US FOR TOTAL PEACE OF MIND, DON'T HAVE YOUR ORDER SEIZED BY CUSTOMS.
LIMITED QUANTITY AVAILABLE AWAITING RESTOCK !
STOCK # ULTIMATE-UMP002
ULTIMATE THINNER TO PAINT RATIO CHART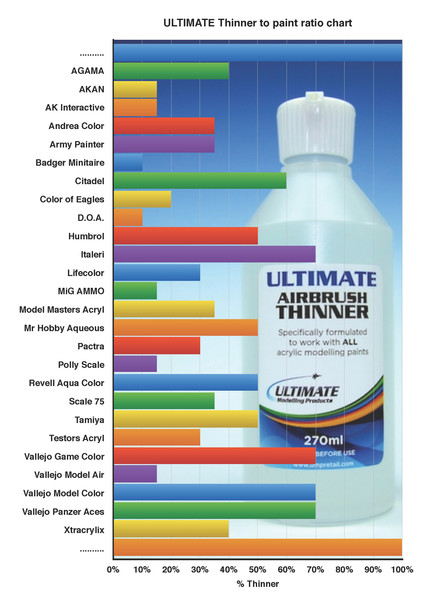 LIMITED QUANTITY AVAILABLE AWAITING RESTOCK !