The Titanic was the second ship in the Olympic class ocean liners built at the Harland and Wolff shipyards in Belfast, Ireland and launched in May of 1911. The Titanic was the pride of the White Star Line carrying the elite of Europe and America across the Atlantic.
Trumpter has used authentic Harland and Wolff blueprints to capture every detail that a model in this scale requires. It is surely to be the most desired plastic model kit by modelers Worldwide.
THIS KIT ONLY SHIPS WITHIN CANADA AND THE UNITED STATES EXCLUDING HAWAII AND ALASKA
Details :
This kit features over 1,280 parts on 19 sprues, including a one-piece hull, a finely-rendered deck pattern, along with seven pieces of photo-etch frets for handrails, ladders, and more.
This kit measures 53 inches long when completed. Kit ships in its own carton.
Notice:
We are currently accepting orders for the Trumpeter 1/200 Scale Titantic Model Kit. By placing your order you fully understand and agree that your credit card will be charged today to secure your commitment to purchase this item.This item is ineligible for any and all other Strike Force Hobbies promotions,offers and or sales.
This order is FINAL NO REFUNDS AND OR EXCHANGES AS DEMAND IS EXTREMELY HIGH.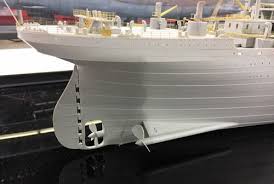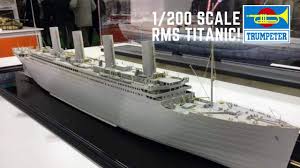 DUE TO THE SIZE OF THIS KIT CUSTOMER WILL BE INVOICED EXACT SHIPPNG COST !
IMPORTANT NOTICE :
LIMITED QUANTITY REMAIN IN STOCK !